In the fall of 2018, Press Press initiated a process of expanding our practice to both the west and east coasts of the United States, creating a new home base in Los Angeles, California, while investing in our existing home base of Baltimore, Maryland. In this moment of transition, growth, and inevitable change, the organization, in partnership with the Institute for Expanded Research, decided to hold space for learning and reflecting on our past projects since we started in 2014. As part of this process, in January 2019, during Press Press's residency at the the George Peabody Library, 1 1 1
The George Peabody Library is a partner site to the Institute for Expanded Research, which acted as a studio and programming space for Press Press in 2017-2018 to facilitate research for this project.   we gathered two groups of Baltimore-based cultural organizers, artists, musicians, and community-oriented practitioners who have largely worked through cooperative, collective, and collaborative models for two evenings of dinner and conversation at the library. Throughout the evenings, we talked about collectivity and community. We talked about why we choose, or are often compelled, to do our work through collective models, the challenges we face, and advice we can offer on how to address our various difficulties. Most importantly, we talked about the circumstances, intentions, and desires that drive the collective work models we engage with, thrive within, and sometimes struggle through. We do this work because:

"We want to make something larger than ourselves. Sometimes you need people to hold you. Survival. We feel connected to a shared struggle. We challenge ourselves and others to learn and grow. There is power in solidarity. Collective work means shared resources and skills. We are working to create utopian experiential educational structures. It's nourishing to work with others. Knowing how to work cooperatively is a basic building block for resisting the state. Non-transactional love, emotional work, anti-capitalism. Personal growth. Support and safety. Multiple perspectives enable more nuanced work. We need to address urgent problems together. In order to reflect on yourself, you need to know yourself in the context of others. Letting go of our egos. It's fun to socialize with a purpose. Shared voice. Sharing privilege and sharing power." 2 2 2
These quotes were collected from different participants in the workshops Press Press hosted in Baltimore when considering the question, "Why do we work in cooperative, collective, or collaborative ways?" Workshop attendees are mentioned in the credits of this publication.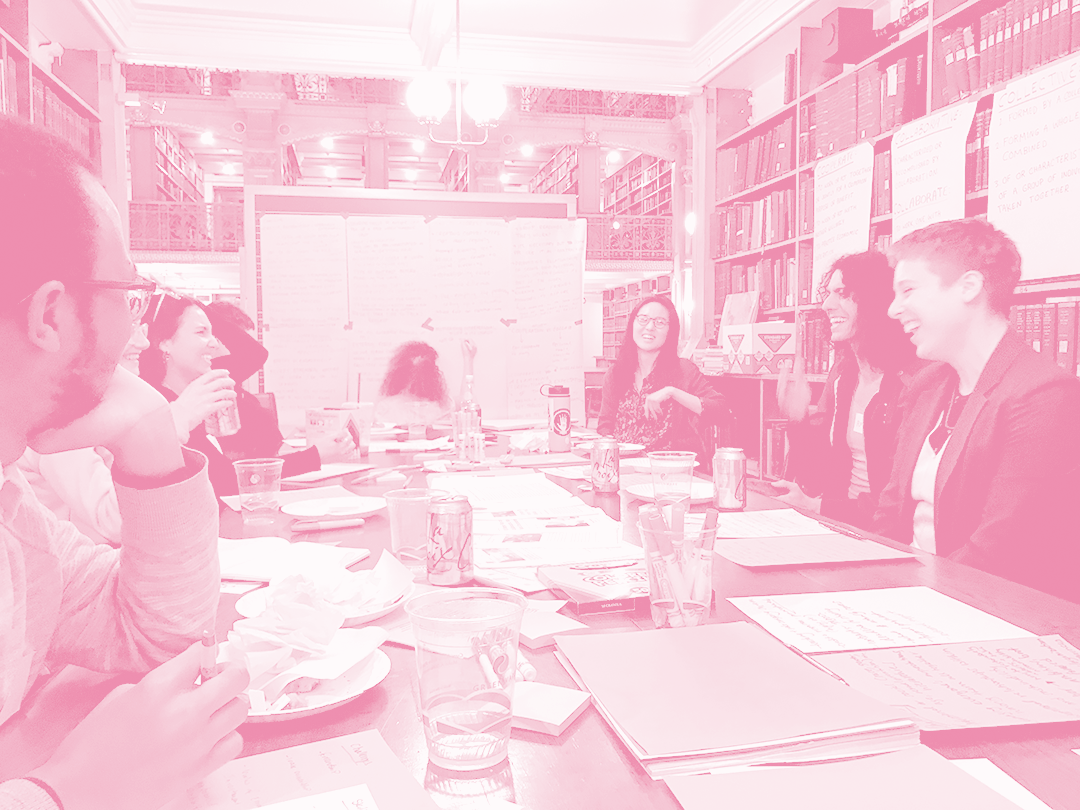 The motives that drive this kind of work are broad, ranging from desire to survival, or even a combination of the two, from the joy that may emerge from working with others to fostering a sense of belonging for our own self-preservation. In doing this work that is so counter to the ideologies and frameworks we encounter in our day-to-day lives, we insist on the need to embrace our fundamental interconnectivity and interdependence as human beings. We do this by honoring multiple perspectives, picking up the slack when others can't, understanding that individual wellness is a collective responsibility, challenging one another, sharing our power, and more.

This publication is organized into four main sections. 1. Prep Work: Working Definitions & Key Words outlines working definitions of terms that will reappear throughout the toolkit. 2. Ground Work considers challenges that may arise around collective organizational structures and includes several subsections: Roles & Hierarchy; Distribution of Labor; Money, Time, & Energy; and Authorship, Credit, & Visibility. 3. Growth Work focuses on cultural, spiritual, and communication challenges within collective organizations and includes several subsections: Accountability & Intention; Communication & Conflict; and Personal & Collective Growth. Finally, 4. Expanded Work aims to inspire further research and exploration of these topics and includes two subsections: Build Your Own Toolkit and Resource List. This toolkit is designed by and for cultural practitioners whose work is grounded in the values of equity, liberation, integrity, and difference. Throughout the toolkit, we include references, quotes, and resources from organizations and individuals we admire in order to complement the ideas that emerged more directly from our gatherings and inspire further research.

To create the toolkit that follows, we transcribed the notes and audio recordings of the questions that were raised within our conversations and the advice we shared with one another. After composing these materials into a shared document, contributors added edits and made adjustments to the text. Then, we gathered insights from other cultural practitioners, collectives, and organizations, either directly through editorial advice, or indirectly from research and reflection on past encounters, in order to produce a more extensive and pragmatic toolkit. This toolkit does not serve as a comprehensive guide to all problems that may arise within collective work. Rather, it reflects those who gathered together on those evenings, as well as those who shared editorial advice, along with some of the challenges we have faced and tools we've developed to address them.

Simply said, collective work is messy. Although Press Press holds many of the ideas on the pages ahead as values, we recognize that they are much easier said than done. We often struggle to negotiate the challenges of collective work and our biggest resource is advice from other practitioners in our expanded community. For this reason, we invite you to take these ideas and build, change, and redefine them as your own: Why and how do you build cooperative, collaborative, or collective-oriented practices that are grounded in equity, liberation, integrity, and difference?


DOWNLOAD A PDF OF THE
TOOLKIT HERE